Announcement
Montreal, October 13th, 2016 – Stunner Media continues to explore opportunities in the fetish and niche markets with the relaunch of beloved kink site, FootFriends.com. The site, which focuses on foot and tickling fetishes, was originally founded back in 2002. Always seeing the potential in a fixer-upper, Stunner was all too glad to take on the challenge of bringing the site into present day with a fresh site design.
Shot mostly in and around New York City, FootFriends was launched to bring together a community of foot, sock, and tickling lovers. Amateur men, of all ages and looks, showed off their stunning feet in videos that have a distinctly gritty, Big Apple feel to them. The men are still sexy, the tickle-provoked laughs and screams still loud, and of course, that sweaty sock smell has never faded but lovers of them are sure to enjoy the updated look of FootFriends.com.
Members of FootFriends.com will get two updates a week, in the form of a video and a classic photo set. From young jocks to older businessmen, and everything in between, the site won't fail to satisfy those with an appreciation for feet, socks, and tickling.
For more information, please visit indiebucks.com
Here are some sample banners: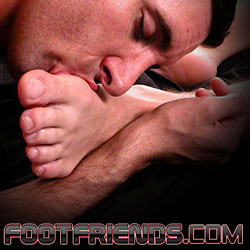 NEW Content for Beddable Boys & Lollipop Twinks!
We added the photosets and tube clips from the new online scenes. You can hotlink to the clips, or embed them on your blogs/pages! Go to the ad tools section on StandAhead to get a dump of clips or the embed code for each clip.
Download all this week's tube clips with descriptions and thumbs to add to your tube:
Click Here to Download all tube clips updates.
Download all this week's photosets:
BEDDABLE BOYS UPDATES
Danny Moretti
Danny Aims For A Self Facial!

He's a very horny young man with a great tight body and a big 8 inch cock, with a heavy load of cum in it too! The fit young man gets stroking on his dick, showing off his length and making those big balls swing and bounce until he can feel the pleasure rising. Getting into position he takes aim, splashing hot cream all over his own face! What a delicious mess he makes, we're all totally jealous.

Tags: Solo, Natural, Facial, Masturbation, Twinks, Black Hair, Cut, Large Dick, Straight Turned Gay, Short Hair, Cum Jerking Off, On The Sofa, American, Self Facial, Smooth, Clean Shaven
LOLLIPOP TWINKS UPDATES
Rhys Casey & Austin Ellis
Austin Can Ride A Big Young Dick!

If a good loving encounter is what you want to see then you're really going to enjoy the sight of Austin and Rhys sharing some intimate fun in this impressive pairing. The boys are making out on the bed and revealing those hard pale dicks for each other, which of course leads to some great sucking! Austin needs more than a taste, his wanton butt is soon sliding down on his friends throbbing length and their intimate and sensual fucking takes a very horny and urgent turn. That prostate pounding does its job, giving Austin the cum splashing he craves!

Tags: Anal, Oral Sex, Masturbation, Twinks, Kissing, Black Hair, Blond Hair, Fucking, Shaved, Trimmed, Uncut, Large Dick, Short Hair, Cum Jerking Off, In The Bedroom, Sensual, Missionary, Riding, British, Smooth, Clean Shaven